Our Vacation Rental Management & Maintenance Performance
As your property managers at Pinnacle Lodging, we're here to take care of all your guests' needs, from booking to post-vacation, so that you never have to worry about hosting from afar. Our around the clock maintenance team will put you at ease and minimize the stress of owning a second property through proactive services and preventative measures. Our team continues to add accolades to our business with a recent nomination for Best Property Management and Rental Company in this years Best of Summit Awards.
Here's some feedback of our vacation rental management & maintenance performance…
Our guest services and inspections teams outperformed other property management companies in the area which lead to higher value ratings in the recent Breckenridge Tourism Office survey. These surveys were collected and tabulated by the Town within a six month window, then compared to all Breckenridge properties participating in the study.
The graph below shows the percent or respondents who indicated a response of either "satisfied" or "extremely satisfied."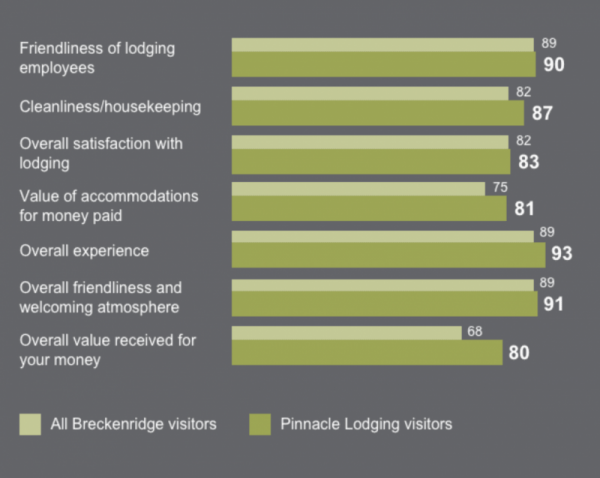 Here's what our homeowners and visitors have to say…
"We've rented from many vacation property management companies and individuals over the years. This is our second year in a row renting a property in Breckenridge from Pinnacle, and we had great experiences both times. They have up-to-date technology that makes it easy to get info on the property (both before and during the rental). And everyone we spoke to or texted with was extremely helpful and friendly." – Linda P.
"We stayed in a Pinnacle Lodging condo last summer. The whole staff was great to work with and the property was well cared for. It was the perfect size and location for our family." – Gerri P.
"They do a fantastic job being available around the clock for any issues that arise and handle them quickly and painlessly. Really pleasant people to work with." – Mitch W.
Become a part of the Pinnacle family. For more information on property management for your vacation rental, get in touch with us today.