How We Maximize Your Summit County Vacation Rental Revenue
When it comes to managing your Summit County vacation rentals, pricing can be competitive and difficult to constantly adjust throughout the fluctuating seasons, all while taking into account the day of the week, holidays, events and more. The pricing technology we use at Pinnacle Lodging is the most advanced in the industry, accounting for changes in occupancy and demand, for every night throughout the year.
By working with us, we can help you maximize your rental revenue to ensure you're never losing potential bookings.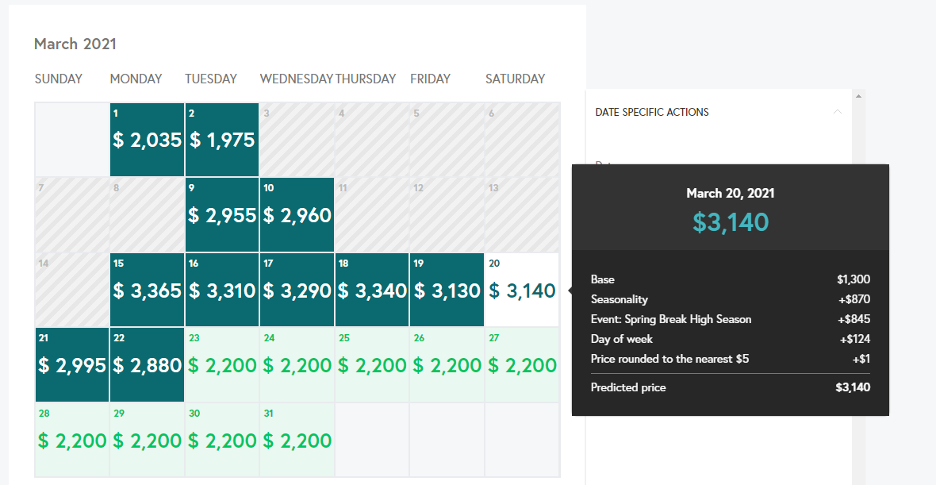 If you're looking for a Summit County property management company, join our portfolio of vacation rentals so we can maximize your home's return. Although the prices are always changing based on supply and demand, you'll have recommendations on nightly base prices right away. Throughout the time working with you, we're able to track your properties performance in pricing and bookings and offer improvement opportunities.

Let's break it down a little further…
Because revenue is a product of occupancy x ADR (average daily rate), it's important not to focus exclusively on one or the other. If your property is outpacing the market (booking up faster than other similar properties), it's a sign that your rent may be too low, and our pricing software will automatically increase your nightly pricing. Conversely, if the market is outpacing your property, it's an indication that your property is priced too high and our pricing software will automatically adjust your rates down. Translate, you'll never be leaving money on the table no matter how your property is performing at a certain time.
Here's how it works:
We meet with our new owners to discuss goals, expectations and how best to achieve those marks through our pricing models
We share rough estimates of annual rent for their specific property
We determine the base rates and set minimum daily rates (although we generally recommend avoiding these, we can do it)
Our pricing software then automatically makes adjustments for day of the week, holidays and peak seasons (i.e., ski season or summer months)
The software then takes the performance of the property versus comparable properties in the market looking mainly at occupancy and ADR and makes further adjustments of rent either up or down to capture the most revenue possible
Both of the above steps will never go below the minimum price set (if one is set)
Although pricing changes based on property type and size, below shows a great example of how our pricing software maximizes your revenue:
| | | | |
| --- | --- | --- | --- |
|   | Previous 3-year average (without software) | After implementing  software | Percent Change |
| Average Daily Rate | $552 | $462 | -16% |
| Occupancy | 35.4% | 59.5% | 68% |
| Average Rent / Home | $46,180 | $61,651 | 34% |
If you're looking for more on we offer to you and your guests, check out our more from our blog. For more information on property management for your vacation rental, get in touch with us today.